Our biggest Black Friday Sale EVER is almost here.
Join us for the Lucy & Co. Black Friday Festival, kicking off on 11/4 at 12am CT. The sale will run for 15 days, wrapping up at midnight on Cyber Monday.
This is literally our biggest Black Friday Sale ever and the best time to grab your favorite goodies. With exclusive drops, new and old releases, free gifts from our friends at P.L.A.Y., you won't want to miss out on all the fun. Keep reading to learn more!
Shop early so your favorites don't sell out.
Enjoy fun freebies, new products, mystery items, and more. The deals won't change during the sale so no need to wait for different discounts!
Want early access?
Text 'BLACKFRIDAY' to +1(833) 987-2756. Confirm your subscription by texting back 'YES' and stay tuned! Once the sale opens, you'll be the first to know.
PS: If you're already part of our SMS community, you're already in.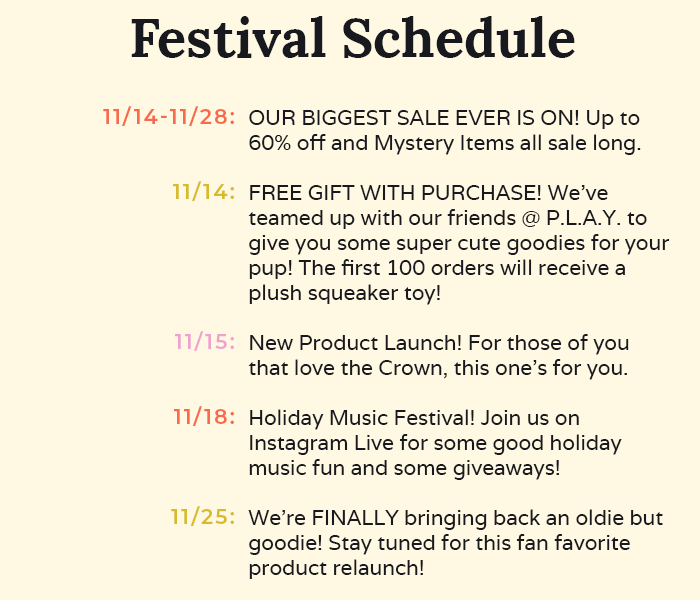 Don't miss out on all the fun!
Again, the deals throughout the sale won't change, but we have some serious fun in store throughout the festival.
Oh, and did we mention Mystery Items will be up to 75% off?
Who doesn't love a good mystery? Enjoy surprise gear at a huge discount, like $5 bandanas or $14 harnesses. Mystery items either have discontinued black hardware, feature a retired print or are overstocked items.
Here's what our customers are saying!